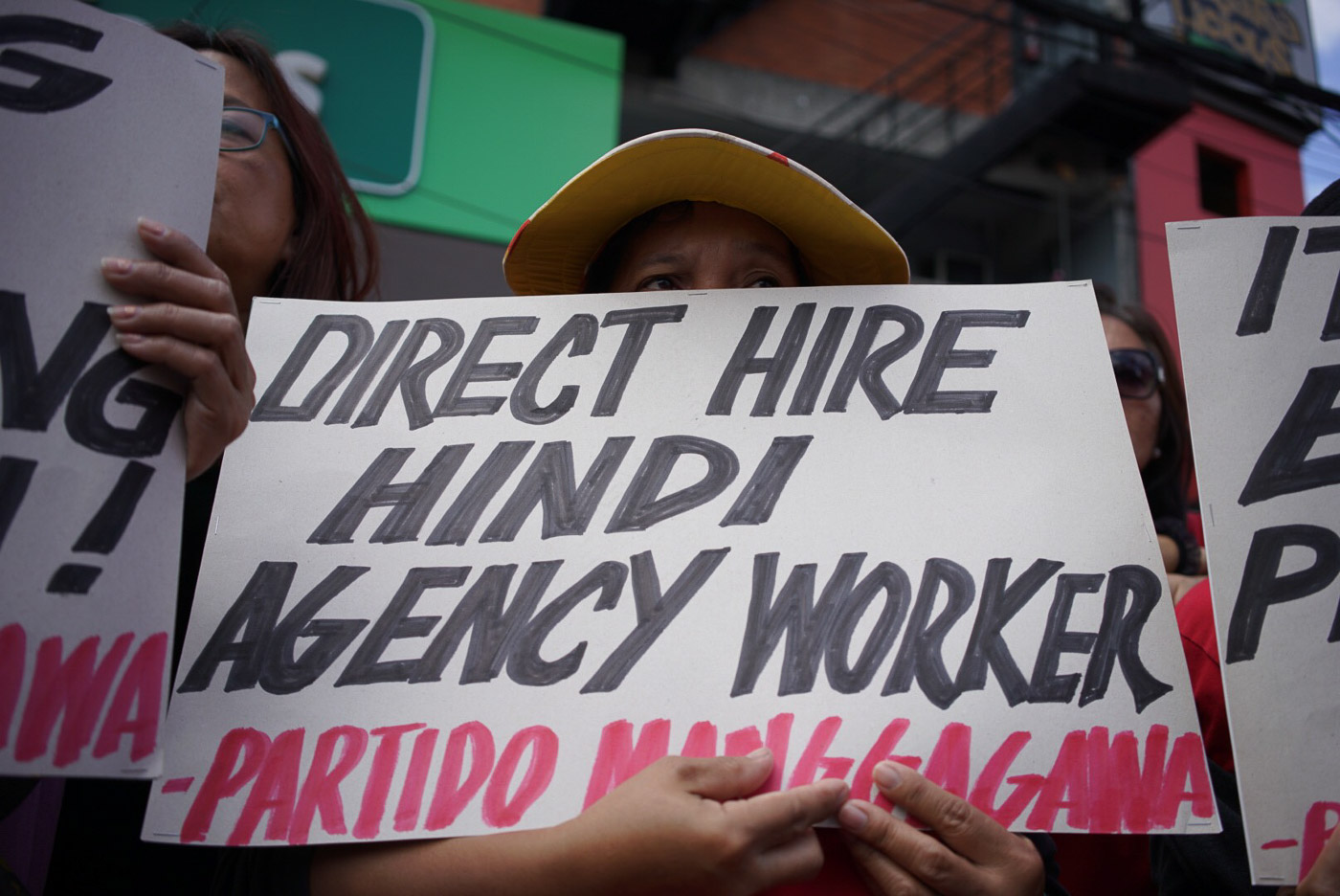 Photo from Rappler.com
The labor group Partido Manggagawa (PM) welcomed the announcement of Labor Secretary Silvestre Bello that the employers group ECOP has pledged to make 300,000 contractual workers as regulars. The group though asked for details of the commitment.
"Good news is always welcome. We would like to believe that the statement of Sec. Bello is true but we do ask that the DOLE and ECOP reveal the terms of the commitment to regularize 300,000 endo employees. The devil is in the details. We have to read the fine print," declared Rene Magtubo, national chair of Partido Manggagawa.
The declaration of President Rodrigo Duterte in his last SONA that the DOLE had already regularized 300,000 workers this year provoked a heated exchange between workers groups and the DOLE about the veracity of the figure. At the heart of the controversy is whether the workers were regularized in the principal companies or merely in the contracting agencies.
Magtubo also insisted that "We also call on ECOP to persuade employers like PLDT, NutriAsia and Wyeth to follow the compliance orders of the DOLE to regularize in their companies contractual workers previously dispatched to them by manpower agencies."
He asserted that "It would be good if ECOP and Sec. Bello would divulge their agreement to the public in order for other employers' group to follow suit. We would like to be appraised of the terms of the agreement so we can assess that it is within the framework of the present law and regulation which provides that dispatched workers performing jobs or functions directly related to the principal business of the employer should become its employees."
Magtubo also reminded the DOLE that workers unrest is brewing as labor disputes and concerted actions have hit companies like PLDT, NutriAsia, Philip Morris-Fortune Tobacco and companies in the Cavite export processing zones.
Tomorrow a meeting is being convened by the National Conciliation and Mediation Board office in Intramuros between the management and union of Philip Morris-Fortune Tobacco Corp. A notice of strike was filed by the Philip Morris-Fortune Tobacco Corp. Labor Union (PMFTCLU-NAFLU) last Thursday over the closure of its Vigan, Ilocos Sur redrying plant and the mass layoff at the Parang, Marikina factory that led to the loss of 90 and 220 jobs respectively. The union is alleging unfair labor practice for the opacity of the basis and process of the termination.
"Retrenchment was the company's reward for increased labor productivity and workers meeting efficiency targets. Instead, shouldn't workers receive their fair share of the fruits of production as stipulated in the Constitution," averred Magtubo who was former local president of PMFTCLU-NAFLU.
August 14, 2018