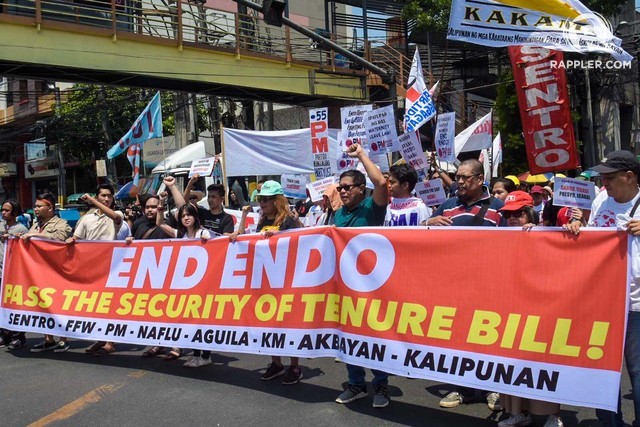 Photo from Rappler
In the face of President Rodrigo Duterte's veto of the Security of Tenure bill, workers will hold initial protests on Monday in Manila and Cebu. "The Security of Tenure bill is the latest victim of killing under the Duterte regime. Workers vow to continue the fight to end endo," declared Wilson Fortaleza, spokesperson of Partido Manggagawa (PM).
PM and other labor groups such as Sentro will launch a noise barrage dubbed "Black Monday Protest" on July 29. In Metro Manila, the protest is at 5:00 pm at the Boy Scout Circle. While in Metro Cebu, the noise barrage is also at 5:00 pm at Gate 1 of the Mactan Economic Zone in Lapu-Lapu City.
The groups also preparing to lobby the new Congress for a new and stronger version of the Security of Tenure bill. "Workers want a law that will ensure regular jobs is the norm in employment relations. We do not accept the excuse that employers can outsource jobs even if it is directly related and necessary to its business. That simply opens the floodgates to the abusive system of contractualization that is happening today," Fortaleza argued.
"Workers will not forget this betrayal by Duterte of his promise to end endo. Three months into his administration, Duterte forcefully warned employers that he will kill them for continuing with the practice of endo. But now three years into his term, he is parroting the lame capitalist alibi that businesses will die if workers are made regular. Duterte's promise to end endo is dead," Fortaleza asserted.
He added that "In the class war between the workers and capitalists on contractualization, Duterte has revealed that he is an enemy of the working class and the CEO of the capitalist class."
July 27, 2019