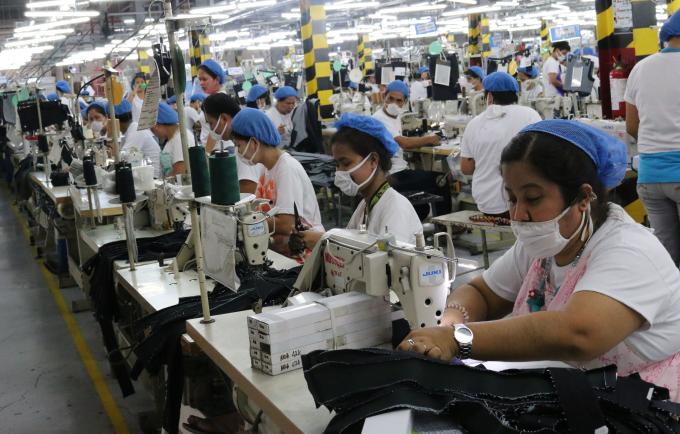 With less than three weeks to go until Labor Day, workers at two Korean-owned garments factories located at the Cavite Economic Zone are complaining of union busting by their management. These complaints once more put respect for freedom of association at the top of workers' demands.
Workers at the Jisoo Garments Manufacturing Corp. and Daegyoung Apparel Inc. are both alleging that management is maneuvering to bust the union in the companies. Jisoo separated almost all of its regular work force last March ahead of a possible certification elections this month. While in Daegyoung, supervisors are asking workers to sign statements that they will not join a union.
Last year, the Department of Labor and Employment convened a dialogue between labor groups and the Philippine Economic Zone Authority to address complaints of violations of the right to unionize and labor standards in the major ecozones like in Cavite and Mactan Cebu. A technical working group was formed to resolve the allegations of union busting and other workplace grievances.
A union busting complaint filed by the Jisso labor union is presently pending. A preventive mediation petition is due to be filed by the Daegyoung workers.
Dennis Sequena, Partido Manggagawa coordinator in Cavite, explained that "To pre-empt the certification election and bust the union, last month Jisoo management offered to separate its regular work force. The separation package was supposed to be voluntary but instead workers were called for one-on-one meetings in management offices and cajoled into accepting the offer. Almost all of the 350 regular workers were terminated and only a handful of union officers remained who resisted the offer. Recently, the union president was denied overtime as a way to harass the remaining holdouts."
He added that "Meanwhile in Daegyoung, workers recently formed a union to address issues of low wages. The other day, the union president confronted one of the supervisors for asking workers to sign the anti-union pledge. As a result he has been slapped with a case for insubordination and is due to be suspended. These blatant management interference in the right of workers in Jisoo at Daegyoung to unionize are a gross violation of the Labor Code and the International Labor Organization's Convention 87 and 98 on freedom of association and collective bargaining."
Both Jisoo and Daegyoung supply to well-known and global garments brands. Jisoo manufactures clothes for Marubeni of Japan, Cross Plus of Japan, Vuarnet of France, Michael Bastian of the US, 8Seconds of Korea and Tomato. Daegyoung produces garments for Kohl's of US, Vera Wang of US, Jennifer Lopez of US and UBase International of Korea.
April 12, 2019